Alias8 Modular Patch Challenge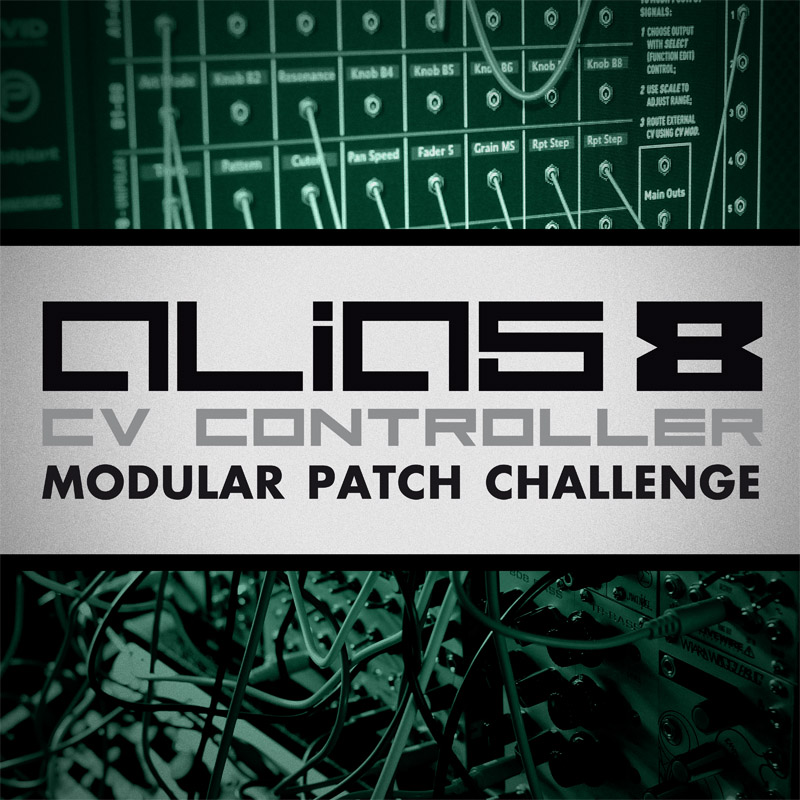 The Alias8 CV Controller Modular Patch Challenge has come to a close, and we have been combing through the entries. Some of the submissions show an incredible depth of complexity - far beyond what was originally imagined when we designed the Rack Extension. The grand prize winner, however, is very unique and really pushes the boundaries of modular patching in Reason.
The Winner
Joshua Nielsen: Alias8 Stochastic Sequencer Patch!
This sequencer patch creates semi-random sequences of notes and patterns, which use allow you to determine the probability of a step/note being selected and played. This kind of functionality requires a bit of mathematics and Joshua used a fair amount of CV and Audio routing and trickery to get the results (have a look at the back panel.. yikes!).
The basic functionality is that for each of the 8 steps, you can select the note for a step using the top row of knobs, the velocity using the second row and the probability of that step being selected using the faders. The toggle on/off buttons allow steps to be tied together and the momentary buttons enable that step to be triggered in real-time (useful for setting the pitch/note of each step). The master fader is assigned to density, which increases the complexity of the final pattern (lower density means less steps will be heard). Download Joshua's patch Here!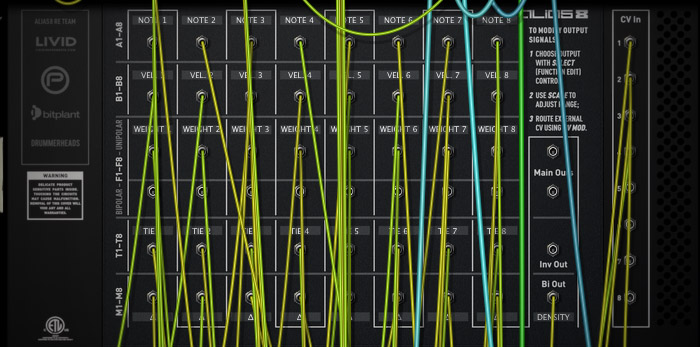 Joshua explains how the patch was developed: I bought Reason in 2010 on a bit of a whim after reading that it was passingly similar to Korg's DS-10 due to its modular design (very much an understatement; DS-10 is limited to five sources & five targets for control signals), the only music software with which I had any experience prior, but it was not until the release of Rack Extensions that I decided to really dig into and learn the program. Something that previously seemed impenetrable to me, CV suddenly opened up a fascinating new world of modulation & control for me, and after watching James Bernard's 52 Week series episode on vocoders I set about my first big project designing my own, a 128-band vocoder –made from M-Class stereo imagers & compressors– that sounded terrible and brought my computer to its knees. While it didn't work out very well, I learned much in pursuing it, and ever since then I have continued to experiment with good & bad ideas alike, always taking away some new bit of knowledge.
When Alias8 was released I read something about using it to trigger sequencers, but I mistakenly interpreted it to mean that it could be used as a sequencer itself; I was wrong, of course, but I wondered what exactly would need to be done to make this happen, and this thought formed the foundation for my patch. I first set about designing the timing circuit for the sequencer, a series of looped delay lines that relayed a CV pulse to the combinator in order to trigger Alias8's momentary buttons, and from top to bottom I intended to have the remaining controls handle note, velocity, gate length, and step state (on/off), but then I remembered a stochastic gate generator project of mine that had never worked well and which I had shelved when Ochen K. released his Probability Drum Trigger; I decided that this was much more interesting and set about retooling and adapting it for use with Alias8, swapping out gate length for probability and using the master fader to scale global probability.
The stochastic gate itself is central to the patch, but is very simple in concept: Thor's LFO acts as a random number generator, putting out a new value with each gate received, the output of which is biased negative and summed with a user-defined positive value; when the sum of these three values (random number, negative bias, & input value) is greater than zero, a gate is triggered, and thus the input value acts to determine the likelihood (probability) that a gate event will occur.
After working out the engine I only needed to make sure that all of the 'moving parts' worked in sync and add all of the remaining features that I desired, the combination of which proved to be a constant game of two-steps-forward-one-step-back. The patch I would still consider to be mostly a prototype, but I was exceedingly pleased to get it working at all, and with everything I learned while making it I think it should not require terribly much more effort to polish it to perfection.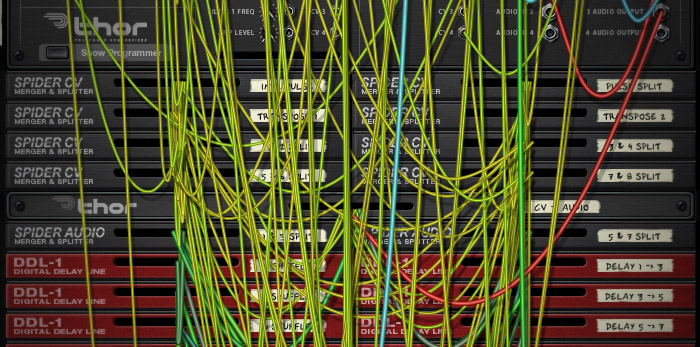 For this amazing piece of modular patching and programming in Reason, Joshua Nielsen is the winner of this Modular Patch Challenge, and will receive the grand prize: ALivid Instruments Alias8 Control Surface!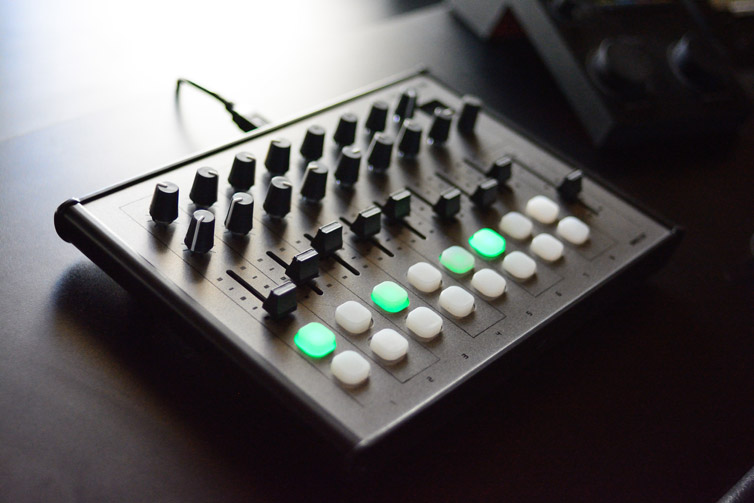 Thank You
Because the challenge rules required entries use nothing but control voltage routings, we knew that it would not be a "typical" song contest. Yet some people managed to work out complete arrangements using nothing but CV and Automation. This obviously demonstrated really impressive understanding of Reason and the flexibility of it's routings. Realizing that an extensive amount of work into these entries, we decided to award all entrants with the Alias8 CV Controller Rack Extension prize. There are some amazing bits of CV trickery in these song files, worthy of careful study! Download all of the entries Here!
We thank everyone who showed interest in the contest and especially thank those who submitted entries: Leah Bond, George Feb, Mike Hochanadel, Kowdermeister, Sebastian Kraft, Rock Nice, Shokstar, Andrew Skelton, Ken Watts, and Andre Zacher! Also many thanks to expert of all things Reason, James Bernard, for his help in judging the patches!
ALIAS8 RACK EXTENSION
Download and install the Alias8 CV Controller demo from the Propellerhead Shop.


Alias8 CV Controller - Shop - Propellerhead
The Alias8 CV Controller is inspired by the Livid Instruments Hardware. The idea is to have a Rack Extension visually match a hardware control surface and seamlessly integrate with remote mapping. The physical to virtual bridge between the user and software environment opens new possibilities for real time control with minimal effort.