Buffre Song Challenge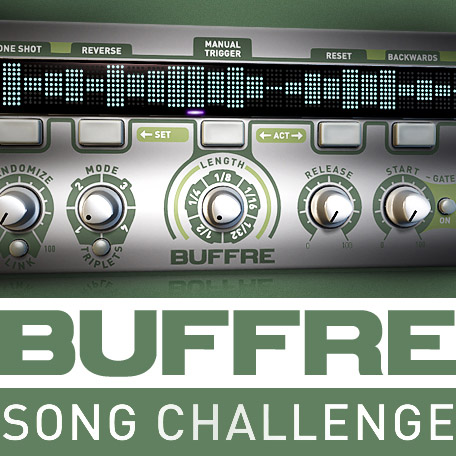 When we initially thought about organizing a Reason song production contest based around the Buffre Beat Repeater Rack Extension, we had no idea that the entries would achieve such a high level of quality. The real "challenge" was in the process of deciding the winners. We appreciate the efforts of all of the participants for their dedication to perfecting their craft with Reason and Buffre. Thank You!
The Winners!
Our top selections embraced the spirit of the contest, which is to balance the use of a beat repeater in a manner that captures a sense of musicality. These two choices are the winners of the Grand Prize of Propellerhead Balance!
Edouard describes the production of Party People: "Edouard plays cajon, electric bass and acoustic Guitar. After quite a journey touring with bands from jazz to metal, he decided to invest in a studio project where he could explore and build his own musical style blending all past influences into something new… A blanket of electro where his creativity could just go wild with no limits. That is how Synaptic Machines came to life in mid 2011 with the Credo: Kick off the beat, torture them damn filters and make da compressors cry!
The recent arrival of rack extensions in mid 2012 on his favorite musical platform, Reason, was a true blessing as it opened a new world where technical issues would fade away leaving way to unlimited imagination. One of the first REs out there was Buffre from PEFF labs, actually the first RE he purchased. The first thing Edouard tried was to take a vocal sample and see how he could torture it a little. That was an instant "Coup de Foudre" for Buffre! His standard Buffre starting point setup became the Pitch and Randomise assigned respectively to the pitch bend and one of the sliders of his controller or the modulation wheel (Ozonic). He uses a Pad Kontrol to select the repeat pattern length. Once set, he actually plays Buffer like an instrument.
This first tweeked rap line was the seed of "Party People", the first track of Synaptic Machines using REs. Edouard felt appropriate to submit what resulted from his initial steps with BUFFRE to the contest. After composing , sound designing and crafting some sweet synth lines, building a beat that gives a latino and "Partyful" ambiance, recording a little guitar, he started to use buffer a little bit everywhere: In addition to the rap lines, on the female vocal hook (1.09), on the female vocal bridge (2.06, 3.11), on the piano (2.24, 2.42), on the synth hook (2.44) and tweeked it also for some ear candy as in 1.44 (word " lunatic"). There are a total of 7 instances of Buffer in the track.
Oh, and a little secret, playing Buffre and Echobode together… hummmm … sweet !
Thank you PEFF labs for releasing this amazing tool that raises some of my music to another dimension!"
ReverbNation | Website | Facebook | Soundcloud | bandcamp | YouTube | Twitter
Invisible by Department of Energy
Department of Energy on the inspiration of Invisible: "Department of Energy are Mario and Klaus, who independently began to produce tracker music in the early 90s. They met by coincidence in 1994, and soon decided to work together as Department of Energy. When Propellerhead Software released Reason back in 2000, Department of Energy instantly abandoned Impulse Tracker and embraced the revelation called Reason, which is still their production software of choice.
"Invisible" started as an experiment while watching Mattias Häggström Gerdt's Product Specialist Series about the gated delay effect, which was the inspiration for the main lead. With the melody parts done, we also decided to include some vocals. While they worked well, they were lacking the "wow" effect – and because of this, Invisible went back to the drawer.
Later, when Mario was participating in the Reason 6.5 beta, he came across Peff's videos introducing Buffre and was amazed by the new possibilities. Needless to say, he bought it on the spot as soon as it became available, actually making Buffre his first extension. He instantly applied Buffre to the vocals in Invisible, which not only lead to amazing results but also new inspiration which allowed us to finish the track."
Special Mention
One track stood out for incredible use of Buffre, and this compelled us to add a special award to the challenge. Can't Find Peace by White Noise Bleed pushes the boundaries of sonic creativity in Reason using Buffre. It's like Boards of Canada assimilates Radiohead for a Sci-Fi cinematic score! It seems fitting that we do something special to recognize this work of art:
White Noise Bleed on his track, Can't Find Peace: "I'm Guillermo, a.k.a white_noise_bleed from Buenos Aires, Argentina. I work as an audio editor, post producer for a tv production company since 2004. I've being making "music" since 1994 as a self-taught musician, producer and sound designer. Also, I played Keyboards for a rock band. After quitting the band, I began making more abstract stuff just to avoid getting rusty (I´m a father to so it´s hard to make a career as a full time musician). I usually spend a couple of ours at night making funny things with reason.
About the song and the use of reason and Buffre: I always try to make things work when they're not supposed to and mostly within Reason. When Buffre was announced, I was expecting to find a tool that allow me to stay in Reason, and have to rewire to another DAW to create the postproduction and glitch stuff.
For the song contest, I tried to make a dubstep (I sucked at it), then something more fast (couldn't achieve anything), and then I started this project. I tried to use only reason and no samples as a sound source, except for the piano track (NN-XT grand piano with some efx on it), and one kick sample used for one of the basses; and of course some drum samples for the drum parts (used only what´s in the Reason library). Then I changed that kick for one in the Reason [factory sound bank], so I could share the song with other Reason users.
The starting point was Buffre used on the pads channel and a group of devices being recorded to one audio track. I tweaked as much as I could (used a couple of trial RE's in that channel mostly as cv triggers going to a Kong and some of the kong cv outs going to another pad cv in). All that passed thru u-he Ambience thru The Echo then Polar, and made it sync to tempo with Alligator. I recorded a couple of "jams", then later I used as this as the sample source for some of the glitches and rhythms.
Buffre is used on the pads in the first half of the song and in the ending pads. I thought that it would be nice to make it glitch something apart from drums. Buffre creates the stutter and the pitch bend effects. I routed the position cv to the filter frequency and from the follower into the length sweep cv input from the Pulverizer chained after Buffre, and in the main beat it makes the beat repeater and the pitch drop downs. There was a third buffre in the master section, which was not used in the final result, just as a test."
The very close Runner Ups
We cannot stress enough how impressed we were with the depth of musicality and Reason skills demonstrated in the entries. The pool of top tracks from the final round of judging featured a wide range of styles, and these are the winners of the Jason McGerr Sessions ReFill from Drummerheads:
This dubstep track by Andrew Skelton, explores pretty much all of the features of Buffre, including some impressive use of the palindrome playback modes to shuffle the beat. The piece moves through different phases and explores a range electronic styles. Explicit Language Warning!
Play by Upright
Bryce's track has an incredible vibe with swinging beats that are countered with layering stutter effects from Buffre Beat Repeater. There's a certain 'flyinglotusesque' feel that is deeply compelling in this fairly spartan arrangement. It's the unique balance of space and movement that makes this one of our top picks.
The vocal production and songwriting are the real strengths of Jay's track, which melds a variety of EDM and pop elements. Buffre and Buffre ReCombinator patches are used to spice up the transitions and breakdown sections. Especially notable is the selected grain tuning using Buffre which maintains a musical balance in the breakdown.
The electro beat combined with unique synth textures enhanced by gating effects (Alligator?) grabbed our attention with Ingo's track, and we were impressed with the well executed use of Buffre to create "tape stop" and "pitch" transition effects that play off synth pitch bends. Also impressive was the creative use of Buffre forward-backward looping combined with fades.
Honorable Mentions
There are also some notable submissions that seemed to grow on us, and we want to recognize these artists:
Furniture Store by Abeno Matto
Not only was this one of the first tracks submitted, Matto went the extra mile and created a video!
Take My Heart (klein mix-session) by Plastik Charm
Best use of Bitspeek. Our friends at SonicCharge should take notice!

So Good by A Million Tiny Architects
Lovely song that has a lot of potential. Any producers out there interested in polishing this gem?

You Dead by PostPre
This beat is just so uniquely funky and addictive!

Coming Up by Pod One
Coming Up is not really a "song" per se, but it's noteworthy because it sounds like a great DJ set. We enjoyed this one.

Organik by Massive Sound Canada
Thanks for keeping Drum 'n' Bass alive!

Blister (Buffre Mix) by Tonal Axis
This is a beautiful arrangement and mix of synth tones. Not always an easy task.
Thank You!
To the Winners, Runner Ups, and everyone who submitted their creations to the BUFFRE Song Challenge, we send our sincerest thanks for participating! For the Honorable Mentions and those not listed, you will be receiving a consolation prize, something straight out of the PEFF RE Labs… when it's finished!